What To Expect On Your Wicked Party Tour
Professional mc host
Our MC's are renowned as the best in the business as they host you and your mates all night long with party games and shoutouts throughout the night.
Venue bar vouchers & VIP entry
Enjoy 4 of the most popular Gold Coast nightclubs on the Surfers glitter strip, plus 2 extra venues when on the party bus!
Private security for your safety
Our large groups feel super safe with our very own private security.
Professional photographer
All your favourite memories and action moments of Saturday night caught.
Awesome prize giveaways
We love to reward our new party mates with awesome prizes when you win the party games
Ultimate VIP discount pass
Our pass valued at $500, jam-packed with deals for local Gold Coast attractions and clubs.ls.
Super fun & experienced party staff
Our party guides are on tour to run party games and ensure your night is fun filled full of memories.
Add a Party Bus experience and finish your night in Burleigh or Surfers Paradise
Upgrade your Saturday Night Pub Crawl to something more fancy with the Wicked Party Bus and finish your night in either Surfers Paradise or Burleigh Heads.
which party tour do you want?
Choose between 2 Party Tours, OPTION 1 our awesome Surfers Paradise party tour through 4 leading venues, or OPTION 2 the Wicked Party Bus tour upgrade your party experience to something more fancy including transfers to your final destination. Choose to finish in Burleigh Heads or finish the night on the Surfers Paradise Club Crawl.
4 Venues $49Surfers Paradise Party Tour
OR
6 Venues $79 Party Bus Broadbeach & Nobbys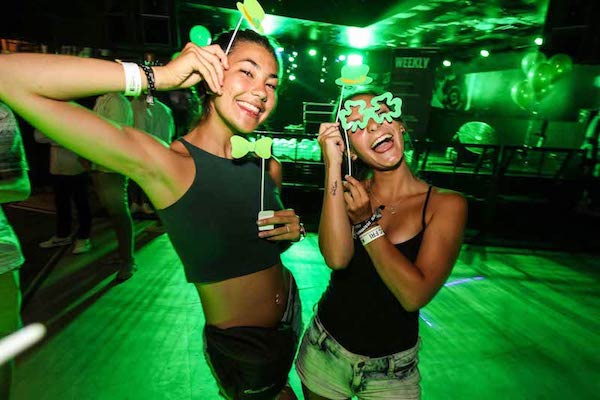 Party like the Irish on St Paddy's Day in 2022
Come and join us on the biggest St Patricks Day Party on the Gold Coast. Award winning nightclub party tour, Wicked Nightlife Tours will be your host! Dress in Green, be prepared for a wild ride and enjoy a night on the Gold Coast that you will never forget! Enjoy the rockstar treatment with free entry into the hottest nightclubs on the Gold Coast plus a long list of Paddy's Day fun, value and silly times! Laugh until you cry, dance until you fall and be merry like the Irish for St Patrick's Day 2022!
Wicked
St Patricks Day Nightclubs

Start your night off at one of our exclusive starting venues. Every night and week is different to where we meet so make sure you look at your ticket with your starting venue and address (we don't want anyone getting lost). Kick off your Saturday night the right way with some friendly competition games and meet all your fellow party goers.
TABOO TIKI
Taboo Tiki is tucked away down a side alley from the glitter strip, the secured entrance opens up into a tropical wonderland, complete with tiki and jungle-inspired rooms, incredible selection of Cocktails, Craft beer, and a back bar with over 30 rums from all over the world.
Arcade Nightclub is the newest kid on the block, pumping out sweet soft house tunes featuring a lounge retro vibe with a modern twist plus a state of the art Audio & AV system. The Wicked Crew get the party games started so get involved in one of our hilarious wicked party games!
Boasting an extensive inside clubbing and dance area, complimented with plenty of luxury VIP booth seating and it's unique industrial Asylum setting. The venue has recently undergone a massive renovation – transforming this centrally located venue into one of the best night clubs.
Add the Party Bus to your ticket, and head to two awesome venues, a lounge bar Broadbeach & a rooftop bar in Nobbys Beach, Sweeeeeet AF

Probably one of the coolest bars around. A prohibition Tap & Grill House in the heart of Broadbeach that hosts live music, the best wings you'll try, and plenty of great beverages to keep you hydrated all night long!

Tropic Vice is a new rooftop restaurant located in the heart of Nobby Beach. Our sun-drenched rooftop gives an 'overseas' experience as a Palm Springs, California meets Miami, Florida kind of vibe. The perfect spot to sip on a few cocktails in the sunshine, or enjoy a dinner watching the sunset.
Events
WICKED SPECIAL EVENTS
Follow Wicked Nightlife on Instagram