Kick off your night at 630pm
Check your ticket for the first venue address
Venue bar vouchers & VIP entry
Enjoy 4 of the most popular Gold Coast nightclubs on the Surfers glitter strip, plus 2 extra venues when on the party bus!
Both guys & girls
Our large groups feel super safe with our very own private security.
Professional photographer
All your favourite memories and action moments of Saturday night caught.
WIN prizes and have loads of fun
We love to reward our new party mates with awesome prizes when you win the party games.
We also provide a VIP discount Pass
Valued at $500, jam-packed with deals.
Awesome prize giveaways
Our pass valued at $500, jam-packed with deals for local Gold Coast attractions and clubs.
Add a Party Bus experience and finish your night in Burleigh or Surfers Paradise
Upgrade your Saturday Night Pub Crawl to something more fancy with the Wicked Party Bus and finish your night in either Surfers Paradise or Burleigh Heads.
Book your Day Of The Dead tickets before they sell out!
Choose between 2 Party Tours, OPTION 1 our awesome Surfers Paradise party tour to 4 amazing venues, or OPTION 2 the Wicked Party Bus tour with 2 added extra venues at the start, one in Broadbeach and in Nobbys Beach. Taking the Wicked Party Bus to both venues, then back to Surfers Paradise to join the rest of the party crew on Wicked Tour.
4 Venues $49Surfers Paradise Party Tour
OR
6 Venues $79 ADD PARTY BUS + SURFERS CLUB CRAWL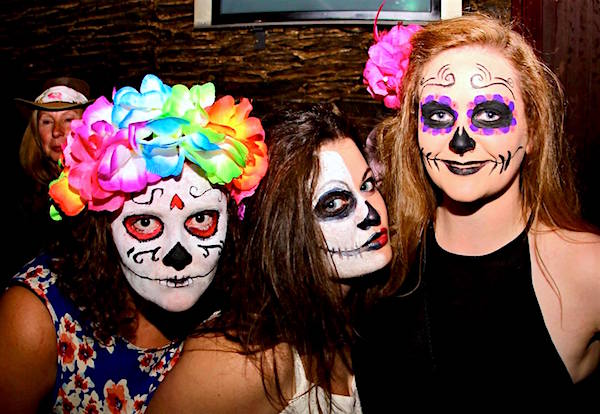 Day of the dead in the Gold Coast
The Day of the Dead is going to be a huge night and we want to be all out in force to take on the town Mexican festival style. Experience the VIP treatment as we only team up with the most elite Bars and nightclubs. You don't want to miss this wicked event.
Day Of The Dead Night Clubs
Venues we will be going to, not necessary in this order

Check your ticket for the starting location, we kick off the night at 630pm. Let's kick off our Gold Coast Saturday night with a little competition. Join us for our starter party games and meet your fellow party goers!
Taboo Tiki is tucked away down a side alley from the glitter strip, the secured entrance opens up into a tropical wonderland, complete with tiki and jungle-inspired rooms, incredible selection of Cocktails, Craft beer, and a back bar with over 30 rums from all over the world.
ARCADE
Arcade Nightclub is the newest kid on the block, pumping out sweet soft house tunes featuring a lounge retro vibe with a modern twist plus a state of the art Audio & AV system. The Wicked Crew get the party games started so get involved in one of our hilarious wicked party games
Boasting an extensive inside clubbing and dance area, complimented with plenty of luxury VIP booth seating and it's unique industrial Asylum setting. The venue has recently undergone a massive renovation – transforming this centrally located venue into one of the best night clubs.
Two extra venues when you add the party bus to your ticket

Loose Moose
Probably one of the coolest bars around. A prohibition Tap & Grill House in the heart of Broadbeach that hosts live music, the best wings you'll try, and plenty of great beverages to keep you hydrated all night long!

Tropic Vice
Tropic Vice is a new rooftop restaurant located in the heart of Nobby Beach. Our sun-drenched rooftop gives an 'overseas' experience as a Palm Springs, California meets Miami, Florida kind of vibe. The perfect spot to sip on a few cocktails in the sunshine, or enjoy a dinner watching the sunset.
Events
WICKED SPECIAL EVENTS
Follow Wicked Nightlife on Instagram